Best Water Parks in The World: A place for recreation and fun, a water park is a perfect retreat for people belonging to all kinds of ages.
Such a venue is either an independent setup or a part of an amusement park that has a number of thrilling attractions. While a majority of visitors usually plan a one-day trip to a water park, there are others who plan on to stay over the weekend.
On special occasions, many parks host disco parties or pool parties with famed entertainers like DJs. Schools and colleges take the students to the nearby water parks for a short excursion.
There is usually an entry fee charged per person for a one day basis that includes access to water park games and attractions.
A food court with a number of food and beverage stalls features on the park's property for the visitors to have meals and snacks. To find one from an extensive list of Water Parks in World, simply scroll up the page.
List of Top 20 Best Water Parks in The World 2022 – Summer Vacation Trip
Here I bring you what I believe are the best aquatic attractions in the world. Vote for your favorite
In this list about the 20 best water parks in the world you can find:
Area 47 (Innsbruck, Austria)
Large park for rafting, canyoning & other water-based activities, plus concerts & accommodation.
Address: Ötztaler Achstr. 1, 6430 Ötztal Bahnhof, Austria
Phone: +43 5266 87676
An Alpine lake is the location for this outdoor water park, which opens from April to the end of September.There are water rides, a diving tower and a hydro-speed slide.On dry land there's a high-ropes course, bridge swing and climbing wall.
Shenyang Royal Ocean Park Water World, Fushun, China
Royal Ocean Park is a popular amusement destination in the vicinity of Downtown Shenyang. Located on the road to Fushun, this amusement park is equally exciting for the kids as well as adult tourists.
The Royal Ocean World is a themed family park consisting of three exclusive attractions. The Hawaii Water Park has rides and water tubes while Narnia and Aquarium boast of fantasy themes. The most eye-catching point inside the park is the Great Barrier Reef section created like its natural habitat. The seal show and the acrobatic dolphin plays are also major draws for the tourists.
Address: VP9R+PVJ, 104 Sheng Dao, Wanghua District, Fushun, Liaoning, China, 113123
Beach Park, Aquiraz, Brazil
Beach Park is a Brazilian water park and tourist resort, situated on the beach of Porto das Dunas in the municipality of Aquiraz, in the Metropolitan region of Fortaleza. Spread out across an area of 170,000 m², its aquatic park is 35,000 m².
Address: Rua Porto das Dunas, 2734 – Porto das Dunas, Aquiraz – CE, 61700-000, Brazil
Phone: +55 85 4012-3000
Opened: 1985
Tropical Islands, Krausnick, Germany
Taking a break at Tropical Islands means swimming, diving or just relaxing by the Tropical Sea or Lagoon, exploring the world's largest indoor rainforest or getting your adrenalin pumping on Germany's highest water slide tower. Plus lots of other great attractions.
With seven saunas and steam baths stretching across 10,000 m², the Sauna & Spa complex is the perfect place to relax and enjoy a massage after an exciting day in the tropics.
Discover our outdoor area, Tropical Islands AMAZONIA. Open all year round, it features swimming pools, sports facilities and the amazing Whitewater River
Enjoy the food and drink at our restaurants, bars and lounges. Spend the night in one of the themed guest rooms, lodges, or tents inside the Dome.
Address: Tropical-Islands-Allee 1, 15910 Krausnick, Germany
Phone: +49 35477 605050
Therme Erding, Erding, Germany
Therme Erding is the largest thermal bath complex in Europe. It is 30 minutes northeast of Munich by car and is visited by around 4000 people every day.
Damit Sie bestens auf Ihren Aufenthalt in der Therme Erding vorbereitet sind, stellen wir Ihnen die aktuellen Voraussetzungen und Auflagen immer unter Informationen zum Thermenbesuch bereit. Bitte lesen Sie sich diese Informationen aufmerksam durch und bitte beachten Sie auch vorab alle aktuellen Infos zur Online Reservierung. 
Genießen Sie Ihren Kurzurlaub in der größten Therme der Welt. Ob Erlebnisbad oder Saunawelt, bei uns erwarten Sie in allen Bereichen sommerliche Temperaturen, türkisfarbenes Wasser & erfrischende Cocktails im Pool, umgeben von echten Südseepalmen.
Address: Thermenallee 1-5, 85435 Erding, Germany
Departments: Galaxy Erding
Phone: +49 8122 5500
Opened: 3 October 1999
Chimelong Water Park, Guangzhou, China
Sprawling aquatic recreation center with colorful slides & tubing rides, plus music & dance shows.
From 2006 opening date, Chimelong Water Park joy to the world to complete a great change – from the 1 era of hardware to the theme of the times to meet the theme of experience as the center of the 3 era.
From the 2012 opening of the New Asia indoor scene exploration project "Forest Temple" to the world's top the world's first "Star battle", the long long joy in the world to produce a satisfactory answer to the world theme amusement market.
Address: China, Guangdong Province, Guangzhou, Panyu District, Huanyuan Middle Rd, 长隆欢乐世界内 邮政编码: 511495
Phone: +86 20 8479 2222
Opened: June 2007
Province: Guangdong Province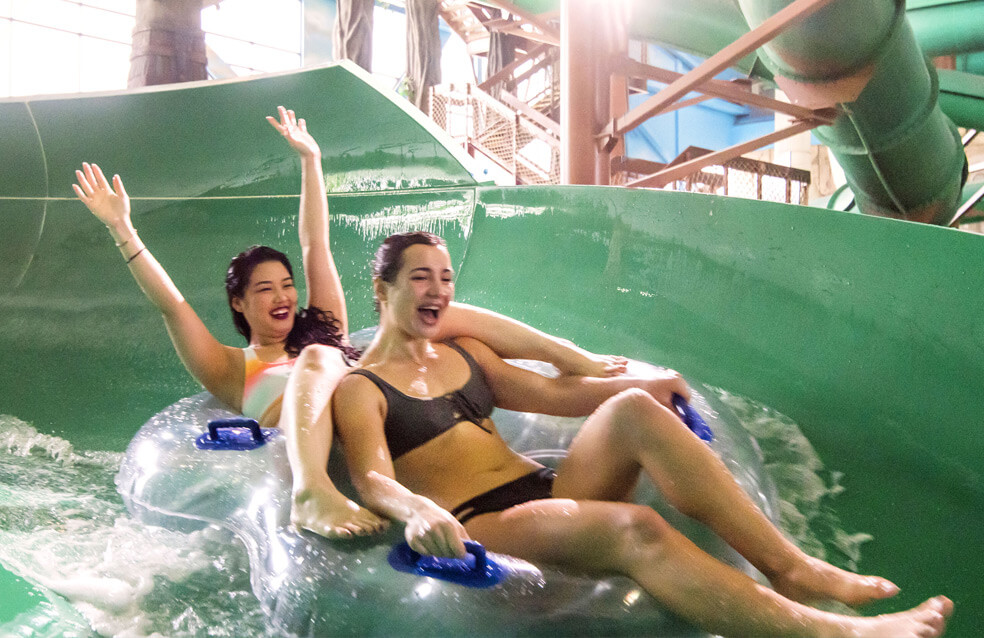 Wuhu Fantawild Water Park, Wuhu, China
Located in the east of Wuhu, Wuhu Fantawild Water Park is another fantastic creation of Fantawild Holdings Inc. in Eastern China. Following the successful footsteps of Fantawild Adventure and Fantawild Dreamland.
It is also Fantawild's first park that features waterscape and water-based attractions. According to the 2016 TEA/AECOM Theme and Museum Index Report, Wuhu Fantawild Water Park honorably ranks among Top 8 Water Parks in the Asia-Pacific Region.
Much of the apparatus at Fantawild Water Park have won the Best Water Park Equipment Award issued by tourism associations across the globe.
Among them, in 2015, the attraction Boonie Bear Village stood out from numerous Chinese water park rides and claimed the Best Project Design and Creativity Prize of the "Ferris Award" issued by China Association of Amusement Parks and Attractions (CAAPA).
Schlitterbahn, New Braunfels, Texas, United States
The World's Best Waterpark
Schlitterbahn New Braunfels is on every summer bucket list for things to do near San Antonio or across the great state of Texas. The World's Best Waterpark provides a staggering variety of river rides, pools, waterslides, and adventures from mild to wild.
With four distinct sections, any single area of Schlitterbahn is as large as most regional waterparks. Every section contains a swim-up bar, not-so lazy river, a children's area, and unique signature attractions.

Schlitterbahn New Braunfels Waterpark Resort has become a summer vacation destination for many families. With seven distinct accommodation styles and room types ranging from a basic hotel room to a multi-room vacation home, Schlitterbahn's resort is ready to host your family.
Stay during the water park season and enjoy waterpark admission included in your reservation. The Resort is open for year-round fun in the beautiful Texas Hill Country.
Administrative Office & Mailing Address
381 East Austin Street
New Braunfels, TX 78130
Phone: (830) 625-2351
The Resort at Schlitterbahn New Braunfels
305 West Austin Street
New Braunfels, TX 78130
Lodging and Resort Booking: (830) 312-7281
Wet 'n' Wild Gold Coast, Gold Coast, Australia
Australia's Biggest'n'Best Water Park is calling your name! Splash, swim and slide into the perfect day at this must see Gold Coast destination!
Wet'n'Wild Gold Coast is a water park situated in Oxenford, Gold Coast, Queensland, Australia, owned and operated by Village Roadshow Theme Parks. In 2009, the park received 1,095,000 visitors ranking it first in Australia and eighth in the world.
Address: Pacific Mwy, Oxenford QLD 4210, Australia
Departments: AquaLoop · Mammoth Falls · The Kamikaze
Phone: +61 133386
Opened: 30 September 1984
Water slides: 17 water slides
Owner: Village Roadshow Theme Parks
Slogan: Biggest 'n' Best
Sunway Lagoon, Kuala Lumpur, Malaysia
The Sunway Lagoon is an amusement park in Bandar Sunway, Subang Jaya, Selangor, Malaysia owned by Sunway Group.
The park began operations in 1992 and was officiated by the then Prime Minister of Malaysia, Tun Mahathir bin Mohamad, on 29 April 1993.
Since its opening, the theme park has added Malaysia's first surf simulator, the FlowRider in 2010; Malaysia's first 5D Waterplexx in 2012 and a very large water ride, Vuvuzela, in 2013.
Located in: Sunway Pyramid
Address: 3, Jalan PJS 11/11, Bandar Sunway, 47500 Subang Jaya, Selangor, Malaysia
Hours:
Open ⋅ Closes 6PM
Phone: +60 3-5639 0000
Themes: Extreme Park, Amusement park
Opened: 29 April 1993
Owner: Jeffrey Cheah
Operating season: Year-round
Slogan: Your Best Day Ever
Ocean World, Gangwon-do, South Korea
Ocean World is a water park in Hongcheon County, Gangwon Province, South Korea. Opened in 2009, it forms a part of the larger Vivaldi Resort. The park has an Ancient Egyptian theme. It claims to be the most popular water park in South Korea, and the 2nd in Asia overall.
Located in: Daemyung Vivaldi Park Ski Resort
Address: 262 Hanchigol-gil, Seo-myeon, Hongcheon-gun, Gangwon-do, South Korea
Phone: +82 1588-4888
Rides: Cairo Racing, Super S Slide, Monster Blaster, MORE
Opened: May 2009
Province: Gangwon-do
Atlantis Water Adventure, Jakarta, Indonesia
Atlantis Water Adventure is an exciting water park located in the Ancol dreamland area, a short 10 km drive away from Jakarta's city centre. Equipped with a variety of pools and slides that zip through pools that are sure to thrill children and adults alike.
The biggest attraction of Atlantis Water Adventure is surely the wave pool that artificially creates swells of water and mimics the tides of the ocean.
Country: Indonesia
Region: Java
City: Ancol, Jakarta
GPS: -6.124113, 106.839122
Official website: Atlantis Water Adventure »
Official phone number: +62 21 29222222
Aquaventure Water Park, Dubai, United Arab Emirates.
Start exploring the world's largest waterpark and get your pulse racing with over 105 record-breaking slides, attractions and experiences, make your way through the Raging Rapids, and relax on 1km of private beach.
Vast water park with zip lines, slides through shark-filled lagoons & a splash area for kids.
Located in: Atlantis, The Palm
Address: Atlantis The Palm – Crescent Rd – Dubai – United Arab Emirates
Phone: +971 4 426 0000
Appointments: atlantis.com
Opened: 24 September 2008
Hot Park Rio Quente, Caldas Novas, Brazil
Amusement area offering water slides, surfing & kayaking, plus an abandoned "ghost" fishing village.
Located in: Rio Quente Resorts – Hotel Turismo
Address: Rua Particular, sem número Esplanada, Rio Quente – GO, 75667-000, Brazil
Departments: Clubinho da Criança Hot Park
Phone: +55 11 3512-4830
Aquatica, Orlando, Florida, United States.
The Aquatica is a chain of water parks owned and operated by SeaWorld Parks & Entertainment. Aquatica parks are operating in Orlando, Florida and San Antonio, Texas.
Founded: Orlando, Florida, United States
Number of locations: 2
Parent organization: SeaWorld Parks & Entertainment
Mailing Address:
Aquatica Orlando
5800 Water Play Way
Orlando, FL 32821
Phone Numbers:
Wet 'n Wild, Orlando, Florida, United States.
Wet 'n Wild Orlando was the flagship water park of Wet 'n Wild owned by NBC Universal, located on International Drive in Orlando, Florida. It was founded in 1977 by SeaWorld creator George Millay. It closed on December 31, 2016.
Opened: 13 March 1977
Founder: George Millay
Location: Universal Orlando Resort, Orlando, Florida, U.S
Pools: A single pool
Rides: Brain Wash, The Flyer, Mach 5, The Storm
Parent organization: Universal Orlando Resort
Caribbean Bay, Gyeonggi-do, South Korea
Caribbean Bay is an indoor/outdoor water park located in Yongin, South Korea, on the outskirts of Seoul. Opened in 1996, it is the Largest Indoor and Outdoor Waterpark in the world, covering a total area of about 242,321,000 square yards.
Located in: Everland
Address: 199 Everland-ro, Pogog-eup, Cheoin-gu, Yongin-si, Gyeonggi-do, South Korea
Phone: +82 31-320-5000
Rides: AquaLoop, Tower Raft, Tower Bumerango, Wild Blaster, Quick Rider
Opened: 1996
Parent organization: Everland
Province: Gyeonggi-do
Founded: 1996
Area: 242,321,000 square yards
Bahamas Aquaventure Water Park, Paradise Island, Bahamas
Popular, 141-acre aquatic center featuring high-speed waterslides, a lazy river & swimming pools.
Over 20 million gallons of water, 20 swimming areas, 11 pools including three kids pools, thrilling water slides, a mile-long river ride with high intensity rapids and wave surges. Are you ready to experience the Caribbean's biggest water-themed attraction?
Welcome to the 141-acre waterscape of Aquaventure, the incredible centerpiece of Atlantis, Paradise Island.
It's home to dozens of pools, rivers and slides—like the six-story Mayan Temple where you plummet down into a shark-filled lagoon—that will take your body, mind and spirit on a wild ride.
Or take things a little easier at a lazy river ride, at the Royal Baths or a zero-entry pool, all with easy access to the sugar white-sands of Paradise Beach. Whatever your aquatic-loving heart desires, you can find it here at Aquaventure at Atlantis!
Located in: Atlantis Bahamas
Address: One Casino Drive, Suite 42, Paradise Island, Bahamas
Phone: +1 242-363-3000
Blizzard Beach, Disney World, Orlando, Florida, United States
Disney's Blizzard Beach is a water theme park located at the Walt Disney World Resort in Bay Lake, Florida near Orlando. All water areas are heated, with the exception of the melting snow in the ice cave of Cross Country Creek. The park opened on April 1, 1995 and was the third Walt Disney World water park.
Located in: Walt Disney World® Resort
Address: 1534 Blizzard Beach Drive, Orlando, FL 32836, United States
Phone: +1 407-939-5277
Opened: 1 April 1995
Owners: The Walt Disney Company, Disney Parks, Experiences and Products
Theme: "Melting" ski resort
Status: Operating
Typhoon Lagoon, Disney world
Disney's Typhoon Lagoon is a water theme park located at the Walt Disney World Resort in Lake Buena Vista, Florida near Orlando, and is one of two operating water parks at the resort. It is the second water park to open at the resort, preceded by Disney's River Country which closed in November 2001.
Located in: Walt Disney World
Address: 1145 E Buena Vista Dr, Orlando, FL 32830, United States
Departments: Typhoon Lagoon Surf Pool
Phone: +1 407-939-5277
Opened: 1 June 1989
Owners: The Walt Disney Company, Disney Parks, Experiences and Products
Theme: Storm-ravaged tropical bay
General manager: Mark Dukes
#Top7Portal #Top10 #Top20 #Top100 #ListofTop10About #ListofTop20About #WorldInformation #Knowledge #Todaynews #Question #Answer #Forbes #Top10Facts #Top10ofEverything #Top7ofEverything #Top20ofEverything #PresentBestTop10Lists #TopTen #TopTwenty #TopSeven #WorldWide
Conclusion of Top 7 Portal is Provide World Top Informative & Knowledgeable Information Website.
if you need anything else, or have inquiries, questions you would love us to answer, kindly use the comment box below to reach us. We'll be updating this page with more updated Top 7 Portal Latest News & Update.
Join Top 7 Portal by clicking on the link provided Facebook, Twitter, and Pinterest using the share buttons below.
You are reading this article via "Top 7 Portal", thank you very much for reading our article. Friends If you liked this article, please share it with your friends.