Draupadi Murmu Biography: द्रौपदी मुर्मू (जन्म : २० जून १९५८) एक भारतीय राजनेत्री हैं। इन्हें 21 जुलाई 2022 को भारत की 15वें राष्ट्रपति के रूप में चुना गया है। द्रौपदी मुर्मू 25 जुलाई को राष्ट्रपति पद की शपथ लेंगी। इसके पहले 2015 से 2021 तक वे झारखण्ड की राज्यपाल थीं। उनका जन्म ओड़िशा के मयूरभंज जिले के बैदापोसी गांव में एक संथाल परिवार में हुआ था।
Draupadi Murmu has become the 15th President of India. She contested against Yashwant Sinha, the joint opposition's nominee for the top constitutional job. Draupadi Murmu is a tribal leader from Rairangpur in the Mayurbhanj district in Odisha. Draupadi Murmu is a soft-spoken leader who made her way into the politics of Odisha with her sheer hard work. Draupadi Murmu after winning the Presidential elections 2022, has become the first tribal and the second woman to hold the highest office.
Draupadi Murmu Biography in Gujarati caste, age, husband, income, daughter, rss, president, sons, family, qualification, date of birth, politics career, awards, interview, profession, politician party, religion, education, career, speech]
Draupadi Murmu Profile
द्रौपदी मुर्मू

दिसंबर 2016 में द्रौपदी मुर्मू

---

भारत की 15वीं राष्ट्रपति

पदस्थ
कार्यालय ग्रहण
२५ जुलाई २०२२
प्रधानमंत्री
नरेन्द्र मोदी
उप राष्ट्रपति
वेंकैया नायडू
पूर्वा धिकारी
रामनाथ कोविन्द

---

9वी झारखंड की राज्यपाल

पद बहाल
18 मई 2015 – 12 जुलाई 2021
मुख्यमंत्री
रघुवर दास
हेमंत सोरेन
पूर्वा धिकारी
सैयद अहमद
उत्तरा धिकारी
रमेश बैस

---

ओडिशा विधानसभा के सदस्य

पद बहाल
2000–2009
पूर्वा धिकारी
लक्ष्मण मांझी
उत्तरा धिकारी
श्याम चरण हंसदाह
चुनाव-क्षेत्र
रायरंगपुर

---

जन्म
20 जून 1958
मयूरभंज, उड़ीसा, भारत
राजनीतिक दल
भारतीय जनता पार्टी
जीवन संगी
श्याम चरण मुर्मू
बच्चे
3
शैक्षिक सम्बद्धता
रमा देवी महिला विश्वविद्यालय, भुवनेश्वर
पेशा
राजनीतिज्ञ
व्यक्तिगत जीवन
द्रौपदी मुर्मू का जन्म २० जून १९५८ को ओड़िशा के मयूरभंज जिले के बैदापोसी गांव में एक संथाल परिवार में हुआ था। उनके पिता का नाम बिरंचि नारायण टुडु था। उनके दादा और उनके पिता दोनों ही उनके गाँव के प्रधान रहे।
उन्होंने श्याम चरण मुर्मू से विवाह किया। उनके दो बेटे और एक बेटी हुए। दुर्भाग्यवश दोनों बेटों और उनके पति तीनों की अलग-अलग समय पर अकाल मृत्यु हो गयी। उनकी पुत्री विवाहिता हैं और भुवनेश्वर में रहतीं हैं।
द्रौपदी मुर्मू ने एक अध्यापिका के रूप में अपना व्यावसायिक जीवन आरम्भ किया। उसके बाद धीरे-धीरे राजनीति में आ गयीं।
Draupadi Murmu Biography
| | |
| --- | --- |
| Name | Draupadi Murmu |
| Born | June 20, 1958 |
| Birth Place | Uparbeda, Mayurbhanj, Odisha, India |
| Age | 64 years |
| Parents | Biranchi Narayan Tudu |
| Political Party | Bharatiya Janata Party |
| Office | President of India |
| Education | Ramadevi Women's University |
| Previous Offices | Governor of Jharkhand, Minister of State for Fisheries and Animal, Minister of State for Commerce and Transport, Member of the Odisha Legislative Assembly |
| Children | Itishri Murmu |
| Spouse | Shyam Charan Murmu (passed away in 2014) |
राजनीतिक जीवन
द्रौपदी मुर्मू ने साल 1997 में राइरंगपुर नगर पंचायत के पार्षद चुनाव में जीत दर्ज कर अपने राजनीतिक जीवन का आरंभ किया था।
उन्होंने भाजपा के अनुसूचित जनजाति मोर्चा के उपाध्यक्ष के रूप में कार्य किया है। साथ ही वह भाजपा की आदिवासी मोर्चा की राष्ट्रीय कार्यकारिणी की सदस्य भी रहीं है।
द्रौपदी मुर्मू ओडिशा के मयूरभंज जिले की रायरंगपुर सीट से 2000 और 2009 में भाजपा के टिकट पर दो बार जीती और विधायक बनीं। ओडिशा में नवीन पटनायक के बीजू जनता दल और भाजपा गठबंधन की सरकार में द्रौपदी मुर्मू को 2000 और 2004 के बीच वाणिज्य, परिवहन और बाद में मत्स्य और पशु संसाधन विभाग में मंत्री बनाया गया था
द्रौपदी मुर्मू मई 2015 में झारखंड की 9वीं राज्यपाल बनाई गई थीं। उन्होंने सैयद अहमद की जगह ली थी। झारखंड उच्च न्यायालय के तत्कालीन मुख्य न्यायाधीश वीरेंद्र सिंह ने द्रौपदी मुर्मू को राज्यपाल पद की शपथ दिलाई थी।
झारखंड की पहली महिला राज्यपाल बनने का खिताब भी द्रौपदी मुर्मू के नाम रहा। साथ ही वह किसी भी भारतीय राज्य की राज्यपाल बनने वाली पहली आदिवासी भी हैं।
द्रौपदी मुर्मू ने 24 जून 2022 में अपना नामांकन किया, उनके नामांकन में पीएम मोदी प्रस्तावक और राजनाथ सिंह अनुमोदक बने
Draupadi Murmu Husband, Personal Life, Education, Family
Draupadi Murmu was born on June 20, 1958, in Uparbeda village of Mayurbhanj district in Odisha in a Santali tribal family to Biranchi Narayan Tudu. Bother her father and grandfather were village heads under the Panchayati Raj Systems.
Draupadi Murmu married Shyam Charan Murmu, a banker who died in 2014. The couple had two sons, both of whom passed away, and a daughter Itishri Murmu.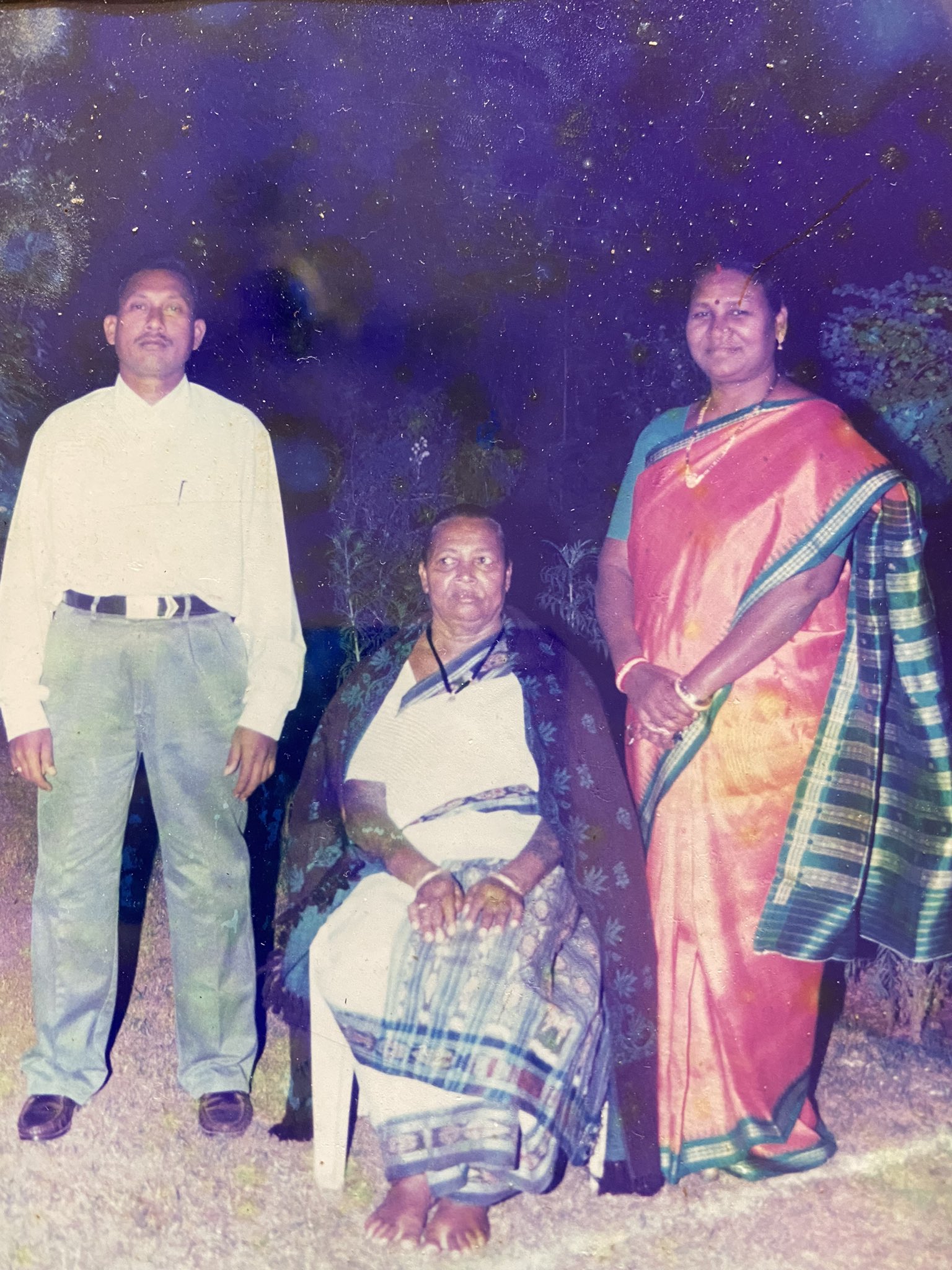 Draupadi Murmu Teaching Career
Draupadi Murmu started out as a school teacher before entering state politics. Murmu worked as an assistant professor at the Shri Aurobindo Integral Education and Research Institute, Rairangpur, and as a Junior Assistant at the Irrigation department of the Government of Odisha.
Draupadi Murmu Political Career
Draupadi Murmu joined the Bharatiya Janata Party (BJP) in 1997 and was elected as the councilor of the Rairangpur Nagar Panchayat. In 2000, she became the Chairperson of Rairangpur Nagar Panchayat and also served as the National Vice-President of BJP Scheduled Tribes Morcha.
During the BJP and Biju Janata Dal coalition government in Odisha, Draupadi Murmu served in the following positions.
| | |
| --- | --- |
| Positions held | Tenure |
| Minister of State with Independent Charge for Commerce and Transportation | March 6, 2000 to August 6, 2000 |
| Minister of Fisheries and Animal Resources Development | August 6, 2002 to May 16, 2004 |
| Former Odisha Minister | 2000 |
| MLA from Rairangpur Assembly Constituency | 2004 |
Political Timeline
2022: Draupadi Murmu currently serves as the 15th President of India.
2015: Draupadi Murmu was appointed the governor of Jharkhand
2006: Draupadi Mumru was appointed the president of BJP Schedule Tribe Morcha, Odisha unit.
2004: She was again elected as an MLA from the same Rairangpur constituency on a BJP ticket.
2002: She was appointed as a M.O.S for fisheries and animal husbandry in Odisha state government. She remained in the office until 2004.
2000: Elected to the Odisha legislative assembly from Rairangpur constituency as a BJP MLA. She was also inducted into Naveen Patanaik led BJD-BJP government as a minister of state, independent charge.
1997: Elected as a councilor of Rairangpur district in Odisha. She was also became the vice chairperson of Rairangpr.
Achievements
Draupadi Murmu was honoured with Nilakantha Award for the best MLA in year 2007 by Legislative Assembly of Odisha.
Interesting Facts
Draupadi Murmu is the first tribal woman, who is serving as the President of India.
Murmu is also the first President of India, who was born after independence.
She didn't have her own house till 2009.
She has became the first woman to hold the post of governor of Jharkhand.
She was also the first tribal woman to become the full-time governor of any Indian state.
Draupadi Murmu Contact Details – Social Media
द्रौपदी मुर्मू की शपथ विधि कब है?
देश के अगले राष्ट्रपति के लिए हुए चुनाव में एनडीए की उम्मीदवार द्रौपदी मुर्मू को जीत हासिल हुई है। विपक्ष के उम्मीदवार यशवंत सिन्हा को हराकर वे भारत के सर्वोच्च संवैधानिक पद के लिए चुने जाने वाली पहली आदिवासी महिला बन गई हैं। प्रेसिडेंट-इलेक्ट द्रौपदी मुर्मू को सुप्रीम कोर्ट के चीफ जस्टिस जुलाई 25 को पद और गोपनीयता की शपथ दिलाएंगे।
People Also Ask About Draupadi Murmu
Draupadi Murmu served as the Governor of which Indian State?
Draupadi Murmu Was Appointed As The Governor Of Jharkhand On May 18, 2015, She Became The First Woman Governor Of Jharkhand.
Who was Draupadi Murmu's husband?
Draupadi Murmu Was Married To Shyam Charan Murmu. He Was A Banker Was Passed Away In 2014.
What is the birthplace of Draupadi Murmu?
Draupadi Murmu Was Born On June 20, 1958, In Uparbeda Village Of Mayurbhanj District In Odisha.
Which political party nominated Draupadi Murmu as its President Candidate for 2022 elections?
In June 2022, Draupadi Murmu Was Nominated By BJP As The National Democratic Alliance's Candidate For The President Of India For The 2022 Election.
Conclusion of Top 7 Portal | Bio-Data | Life Style | Contact Details | Wiki | News
If you need anything else, or have inquiries, questions you would love us to answer, kindly use the comment box below to reach us. We'll be updating this page with more updated Top 7 Portal Latest News & Update.
Join Top 7 Portal by clicking on the link provided Facebook, Twitter, and Pinterest using the share buttons below.
You are reading this article via "Top 7 Portal", thank you very much for reading our article. Friends If you liked this article, please share it with your friends.