Horror Movies 2022: There are many people who love to watch horror movies. Because of which they have scary dreams at night but still watch movies. Making a movie like this is a bit difficult. Today we have brought with you a list of some such movies. Who entertained the audience well.
VFX is used more in making horror films, so that all the scenes look real. In earlier times all this technology was not there but with time everything has changed. Many directors do a lot of research before making Horror Films. Many horror films were made in both Bollywod and Hollywood industries, seeing which you will definitely be scared.
Top Horror Movies Of Bollywood 2022
Here we are talking about the best horror movies of Bollywood that will make you scream on the screen or groan on your seat.
1. Bhoot Part One: The Haunted Ship
The film Bhoot – Part one: The Haunted Ship is based on a true incident that took place in Mumbai and is about the MV Wisdom incident in the year 2011, as per IMDb. The film tells the story of an officer who has to move an abandoned but haunted ship lying static on Juhu Beach, Mumbai.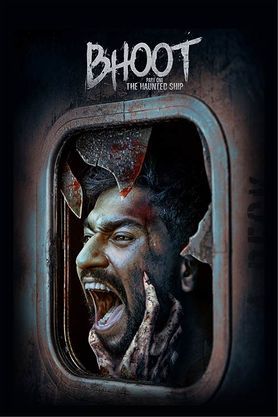 Bhoot Part One: The Haunted Ship is a true story film based on the real-life story of a couple from Mumbai. In this story, a ship arrives in Mumbai on which many mysterious and unusual activities take place. Vicky Kaushal and Bhumi Pednekar are in the lead role in this horror film.
Release date: 21 February 2020 (India)
Director: Bhanu Pratap Singh
Music by: Song: Akhil Sachdeva; Score: Ketan Sodha
Box office: est. ₹40.94 crore
Budget: ₹37 crore
Distributed by: Zee Studios
2. Bhool Bhulaiyaa 2
The sequel of this year's most awaited film Bhool Bhulaiyaa, which everyone was waiting for a long time, has been released some time back. This is a horror comedy film in which Kartik Aaryan, Kiara Advani and Tabu played the lead roles. Which was directed by Aneez Bazmee.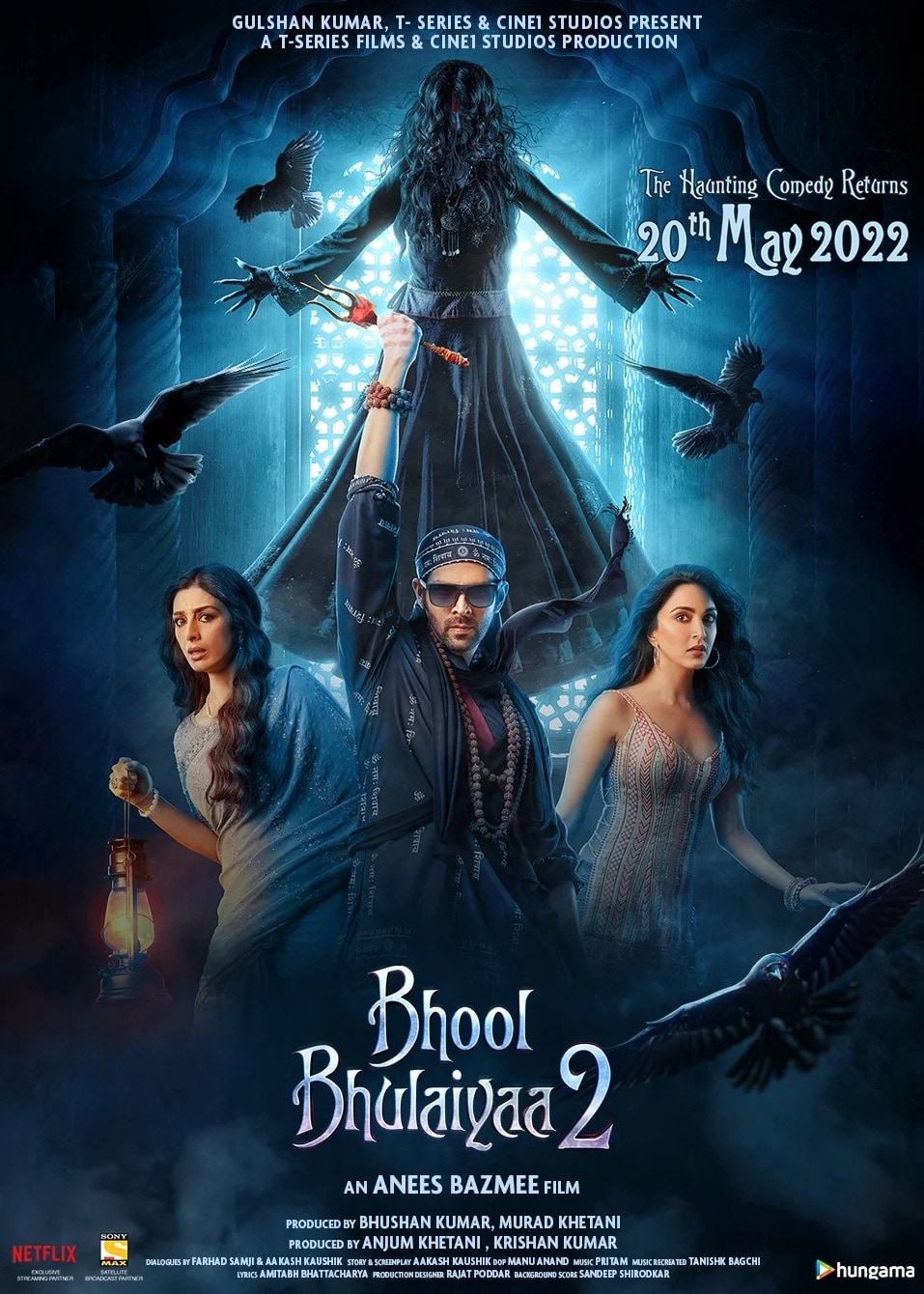 Bhool Bhulaiyaa 2 (transl. Labyrinth 2) is a 2022 Indian Hindi-language comedy horror film directed by Anees Bazmee, written by Aakash Kaushik and Farhad Samji, and produced by Bhushan Kumar and Krishan Kumar under the banner T-Series Films and Murad Khetani and Anjum Khetani under the banner Cine1 Studios.
A standalone sequel to Bhool Bhulaiyaa (2007), the film stars Tabu, Kartik Aaryan and Kiara Advani and follows Ruhaan Randhawa, a fraud psychic who is brought in to deal with the return of Manjulika, a malevolent spirit hell-bent on revenge against the Thakur family.
3. Chhorii
A remake of the Marathi-language film Lapachhapi (2017), the film features Nushrratt Bharuccha in the lead role, alongside Mita Vashisht, Rajesh Jais and Saurabh Goyal. The film premiered on Amazon Prime Video on 26 November 2021. This movie will surely scare you. Don't watch this alone. It was directed by Mahesh Bhatt.
Initial release: 26 November 2021
Director: Vishal Furia
Based on: Lapachhapi (2017)
Language: Hindi
Production companies: Abundantia Entertainment; Crypt TV; T-Series; A Pshych Film
Music director: Ketan Sodha, Ranjan Patnaik
4. Bhoot Police
Bhoot Police (transl. Ghost police) is a 2021 Indian Hindi-language horror comedy film, directed by Pavan Kirpalani and produced by Ramesh Taurani and Akshai Puri. The film stars Saif Ali Khan, Arjun Kapoor, Jacqueline Fernandez, Yami Gautam Dhar and Javed Jaffrey, and premiered on 10 September 2021 on Disney+ Hotstar.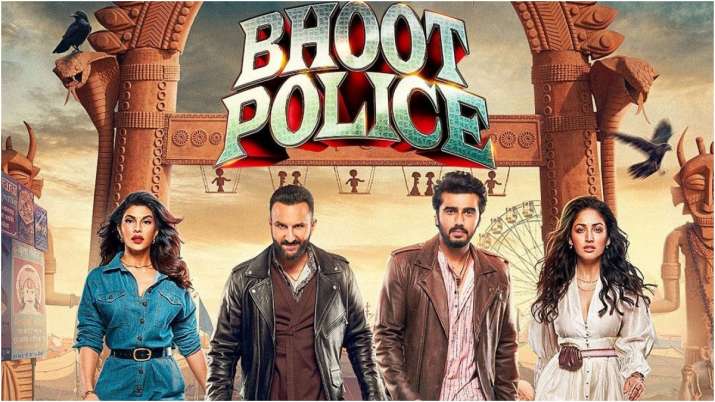 Brothers Vibhooti and Chiraunji are assigned a seemingly ordinary case of hunting down demonic spirits in a remote village. However, they soon realise that there is nothing ordinary about this case.
Release date: 10 September 2021 (India)
Director: Pawan Kripalani
Featured song: Aayi Aayi Bhoot Police
Budget: ₹40 crores
Production companies: Tips Industries; 12 Street Entertainment
Produced by: Ramesh Taurani; Akshai Puri
5. X (2022) Hollywood Movie – Top 10 Horror Movies 2022 in The World – Bollywood & Hollywood New Scary Film
A group of actors sets out to make an adult film in rural Texas under the noses of their reclusive hosts, but when the elderly couple catches their young guests in the act, the cast finds themselves in a desperate fight for their lives.
Plot. In 1979, aspiring pornographic actress Maxine Minx embarks on a road trip through Texas with her producer boyfriend Wayne, fellow actors Bobby-Lynne and Jackson Hole, director RJ and RJ's girlfriend Lorraine to shoot an adult film for the booming theatrical pornography market.
Rating: R
Genre: Horror, Mystery & Thriller
Original Language: English
Director: Ti West
Producer: Jacob Jaffke, Kevin Turen, Harrison Kreiss
Writer: Ti West
Release Date (Theaters): Mar 18, 2022 Wide
Release Date (Streaming): Apr 14, 2022
Box Office (Gross USA): $11.6M
Runtime: 1h 45m
Distributor: A24
6. Scream (2022) – Hollywood
Scream (also known as Scream 5) is a 2022 American slasher film directed by Radio Silence (Matt Bettinelli-Olpin and Tyler Gillett) and written by James Vanderbilt and Guy Busick. It is the fifth installment in the Scream film series.
The Scream 2022 killer is revealed to be Amber, and her motive is quite simple: to keep the Stab franchise alive. When she found out she was living in Stu's house, she became obsessed with the murders and wanted to continue on his legacy.
7. Fresh film 2022 – Top 7 Horror Movies 2022 in The World – Bollywood & Hollywood New Scary Film
The horrors of modern dating are seen through the eyes of a young woman who is battling to survive her new boyfriend's unusual appetites.
Noa breaks her friend Mollie free and upon this happening, Steve recovers and fights the two ladies. Finally, after an intense battle, the ladies are able to break free.
A disfigured Steve eggs Noa and her friends on, encouraging them to show their faces. Mollie tackles him, and Noa grabs his gun. Before pulling the trigger, she utters the same thing he said to her earlier in the movie: "Give me a smile." And then, she shoots him in the head.
Frequently Asked Question (FAQ)
What scary movie is coming out 2022?
One of the first horror films to be released in 2022 is Scream. The fifth installment of the horror franchise takes place twenty-five years after the original, and finds a new Ghostface killer hunting down victims with ties to the OG.
Is the house 2022 Scary?
It's an effectively spooky short, one that gets a great deal of intrigue out what is unfolding in the shadows, prefacing the house as a nonsensical trap. "The House" doesn't continue this more horror vibe in the rest of the story, but rather plays upon nightmares of discomfort.
#Top7Portal #Top10 #Top20 #Top100 #ListofTop10About #ListofTop20About #WorldInformation #Knowledge #Todaynews #Question #Answer #Forbes #Top10Facts #Top10ofEverything #Top7ofEverything #Top20ofEverything #PresentBestTop10Lists #TopTen #TopTwenty #TopSeven #WorldWide
Conclusion of Top 7 Portal is Provide World Top Informative & Knowledgeable Information Website.
if you need anything else, or have inquiries, questions you would love us to answer, kindly use the comment box below to reach us. We'll be updating this page with more updated Top 7 Portal Latest News & Update.
Join Top 7 Portal by clicking on the link provided Facebook, Twitter, and Pinterest using the share buttons below.
You are reading this article via "Top 7 Portal", thank you very much for reading our article. Friends If you liked this article, please share it with your friends.