Indian Actresses at the Cannes Film Festival 2022: The 75th Cannes Film Festival began on May 17 and will end on May 28.
Various Indian celebrities like Deepika Padukone, Aishwarya Rai, Pooja Hegde, Hina Khan and others are attending the film festival this year among others.
See the ruckus of Indian actresses at the France festival, pictures of foreign whites falling in front of them – Top 7 Indian Actresses at the Cannes Film Festival 2022 are in a frenzy at France Festival
फ्रांस फेस्टिवल में भारतीय अभिनेत्रियों का हंगामा, देखिए विदेशी गोरों की उनके सामने झंखि तस्वीरें
Cannes Film Festival kicks off in France The festival is attended by stars from all over the world, including Bollywood. At the same time, this time too Bollywood beauties will show magic on the red carpet in Cannes.
They range from Deepika Padukone to Aishwarya Rai, Pooja Hegde and Hina Khan. Every year at the Cannes Film Festival, Beatown beauties are seen in their best performances. But on the red carpet at Cannes, these Bollywood actresses also showed their stylish look by wearing saris.
1. Aishwarya Rai – cannes film festival 2022 aishwarya rai
The beauty of Aishwarya Rai is seen all over the world at Cannes Film Festival. At the same time, her fashion choice is also seen on the red carpet.
Which everyone keeps watching. But Aishwarya Rai chose yellow sari for the first time on the red carpet of Kan. Which was designed by designer Nita Lulla.
Aishwarya Rai, who has been attending Cannes for many years, returned to the red carpet.
2. Deepika Padukone
Deepika Padukone, who is also a jurt member at Cannes 2022, opted for a shimmery black and gold Sabyasachi saree, @festivaldecannes #Cannes2022
Deepika Padukone shared a selfie before she went on the Cannes 2022 Day 3 red carpet.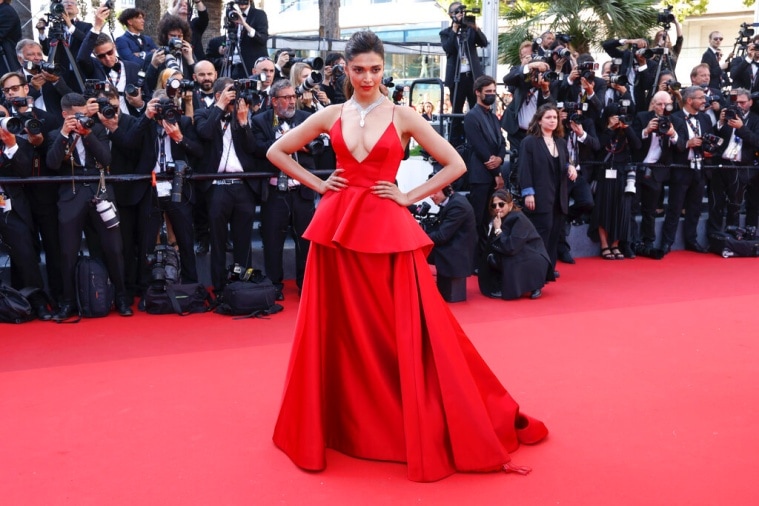 Earlier, Deepika stunned many as she walked the red carpet at the film festival in a saree, designed by Sabyasachi. Her retro look was appreciated by many. She also attended a conference for which she wore a printed shirt and emerald pants. On the second day, she looked gorgeous in her black outfit.
3. Tamannaah Bhatia
Tamannaah Bhatia stuns in 2 black outfits for Cannes 2022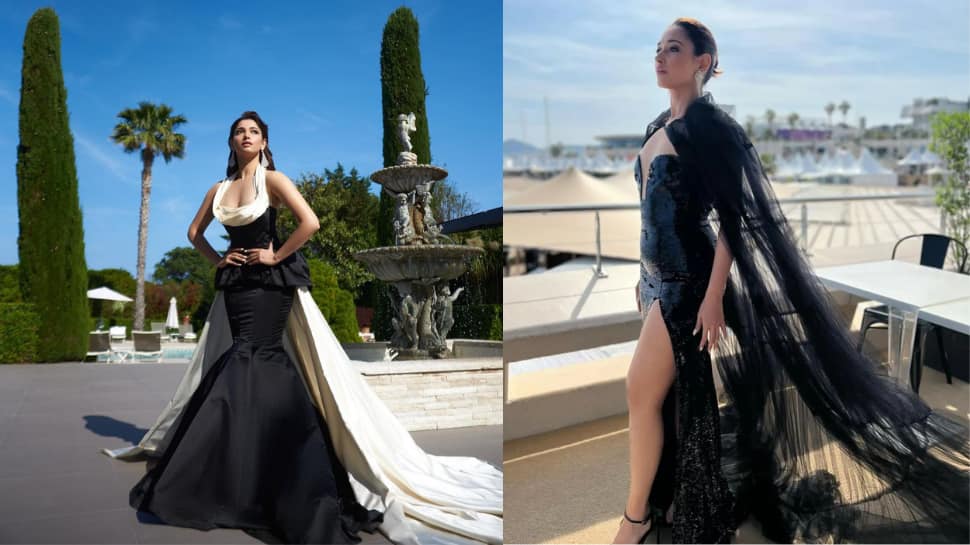 Tamannaah Bhatia has arrived at the premiere of Top Gun Maverick in style. She walked the red carpet at the 75th Cannes Film Festival in style. And blew kisses at the fans gathered around. We bet she stopped traffic. And why not? That confidence and those looks. Uff!
4. Pooja Hegde
Pooja Hegde looks like a fairytale princess in gorgeous blush pink ball gown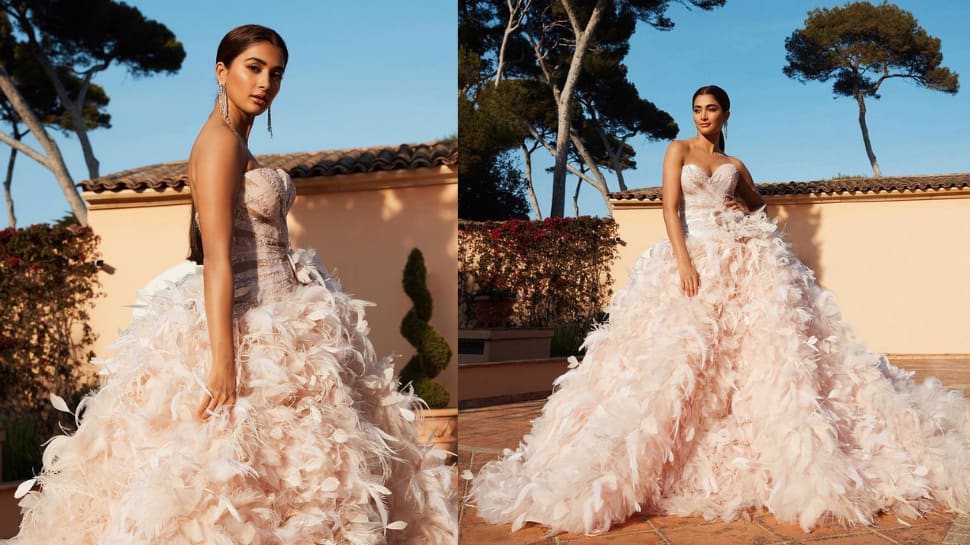 Welcome to Cannes, Pooja Hegde. The actress made her big Cannes red carpet debut this year and she made it count. For the big day, Pooja Hegde wore a white Maison Geyanna Youness ball gown, accentuated with feathers.
Cannes Film Festival 2022: Pooja Hegde lost her luggage as she arrived in Cannes, France, for the ongoing film festival. The actor revealed how she and her team managed without it.
She had her hair pinned up in a sleek ponytail. She accessorized her look with drop earrings. Pooja attended the screening of Tom Cruise's Top Gun : Maverick on Wednesday.
She shared a video from her red carpet debut and wrote: "The iconic red carpet stairs at the Cannes Film Festival. What a rush this was. #grateful #cannes2022 #topgun."
5. Hina Khan
Hina Khan paints French Riviera red in alluring gown – Hina Khan in a dreamy lavender gown shows how it is done at the Cannes Film Festival 2022 red carpet: All pics inside
Cannes 2022: Hina Khan showed how to slay red carpet fashion as she walked at the 75th Cannes Film Festival today. The actor slipped into an intricately embellished lavender gown paired with soft glam.
On Friday (IST), Hina walked the red carpet at the Festival de Cannes. Soon, the pictures and videos of the star arriving at one of the most prestigious events started going viral online.
Hina donned a high-low intricately embellished gown from Sophie Couture. She teamed it with minimal accessories and soft glam. Scroll ahead to see Hina's photos.
6. Helly Shah
Helly Shah's pastel blue gown came with midriff-baring details and embellishments in silver resham threads and rhinestones. The gown also featured a dramatic cape around her shoulders.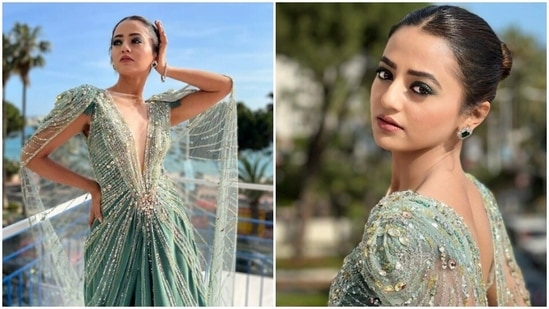 TV actor Helly Shah made her debut at the Cannes Film Festival this year. The 75th annual film festival of Cannes kickstarted on may 17.
The film festival, besides the groundbreaking films, is also known to showcase fashion statements from all over the world. This year, Helly Shah walked the red carpet and made her fans swoon in a sparkling gown.(Instagram/@hellyshahofficial)
7. Urvashi Rautela
Actor Urvashi Rautela opens up about representing Indian content at the global stage of Cannes film festival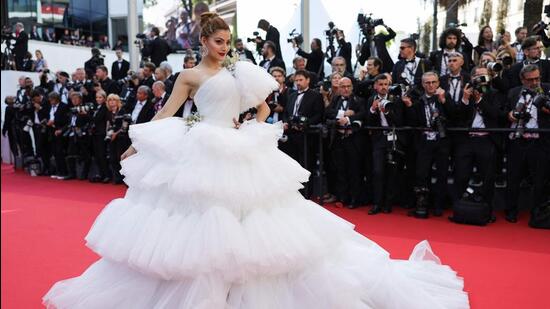 Actor Urvashi Rautela is all set to make her debut at the stage of ongoing 75th edition of Festival de Cannes, and she feels Indian stories going to the festival reflect the strength of the content being churned out in the country.
The 28-year-old adds, "For a long time, India has been known as the world's largest filmmaker. Now, many from the entertainment industry will be attending the film festival this year to showcase the same.
India is the content creator of the world. The type of films in Cannes this year will showcase India's strength in content".
8. Masoom Minawala – Indian Actresses at the Cannes Film Festival 2022 at France
Indian influencer Masoom Minawala, who is attending the Cannes Film Festival for the third time, says she is more comfortable navigating the fun and the work pressure at this massive event now.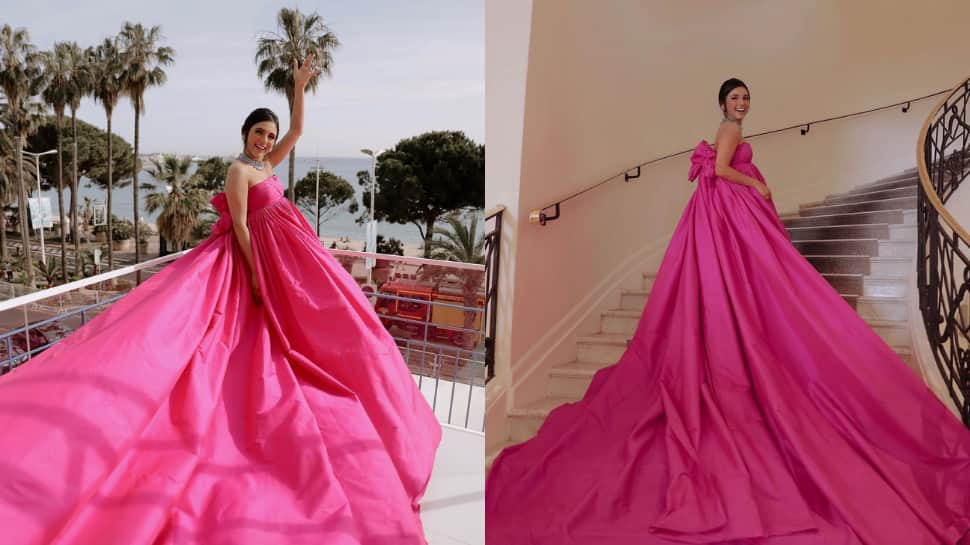 Influencer Masoom Minawala marks her Cannes debut in an all pink attire that was styled by Anaita Shroff.
With the rise of social media in the past few years, there is a new breed of celebrity that are making waves at the festival. They are the internet influencers who are no less than stars on the red carpet. Among them is Masoom Minawala, who has been a pioneer in India as a fashion and lifestyle influencer.
Frequently Asked Question
Top 7 Bollywood Tallest Actress in 2022
Yukta Mookhey – 5′ 11″ feet (1.81 Meters)
Diana Penty – 5′ 10″ feet (1.71 Meters)
Kriti Sanon – 5′ 10″ feet (1.71 Meters)
Sushmita Sen – 5′ 9″ feet
Harnaaz Kaur Sandhu – 5′ 9″ Feet (1.76m)
Manushi Chhillar – 5′ 9″ Feet (1.75 M)
Sarah-Jane Dias – 5′ 9″ feet (1.71 Meters)
Sonam Kapoor – 5′ 9″ feet (1.71 Meters)
Anushka Sharma – 5′ 9″ feet
Deepika Padukone – 5′ 9″ feet … Click Here
Top 10+ Non-Indian Actresses in Bollywood
Katrina Kaif
Jacqueline Fernandez
Nargis Fakhri
Sunny Leone
Evelyn Sharma
Amy Jackson
Nora Fatehi
Lisa Haydon
Iulia Vântur
Claudia Ciesla… Click Here
Top 7 Unmarried Bollywood Actresses in 2022
Sushmita Sen
Tabu
Kangana Ranaut
Ameesha Patel
Esha Gupta
PARINEETI CHOPRA
Ileana D'cruz
Tamannaah Bhatia
Malaika Arora
Shraddha Kapoor… Click here
#Top7Portal #Top10 #Top20 #Top100 #ListofTop10About #ListofTop20About #WorldInformation #Knowledge #Todaynews #Question #Answer #Forbes #Top10Facts #Top10ofEverything #Top7ofEverything #Top20ofEverything #PresentBestTop10Lists #TopTen #TopTwenty #TopSeven #WorldWide
Conclusion of Top 7 Portal is Provide World Top Informative & Knowledgeable Information Website.
if you need anything else, or have inquiries, questions you would love us to answer, kindly use the comment box below to reach us. We'll be updating this page with more updated Top 7 Portal Latest News & Update.
Join Top 7 Portal by clicking on the link provided Facebook, Twitter, and Pinterest using the share buttons below.
You are reading this article via "Top 7 Portal", thank you very much for reading our article. Friends If you liked this article, please share it with your friends.