Most Beautiful Places in Antigua and Barbuda: Former British colonies in the Eastern Caribbean, Antigua and Barbuda boast some of the most ravishing beaches in the world.
Antigua proudly proclaims it has "a beach for every day of the year," and Barbuda, Antigua's sleepy sister island, is also blessed with some pristine stretches of pink-tinged sand sprinkled with chic resorts.
Much more than just an array of dazzling white sand beaches, Antigua and Barbuda is a sun-drenched, aquamarine dream of an country. The land is filled with history and culture, giving visitors an opportunity to get way more than just a golden tan.
List of Top 10 Most Beautiful Places in Antigua and Barbuda To Visit in Vacation – Best Tourist Attractions in Caribbean
From beautiful resort hotels and waterfront events to restaurants filled with delicious local cuisine and exciting nightlife, visitors will get to experience it all during an amazing vacation to the Caribbean islands.
The best time for visitors to go to Antigua and Barbuda is from December to April, when the weather is at its best. Some of the best attractions include the Admiral's House Museum, the Donkey Sanctuary, and the Betty's Hope plantation.
We recommend that you call the attractions and restaurants ahead of your visit to confirm current opening times.
Plan your perfect Caribbean getaway with our list of the Top 10 attractions and places to visit in Antigua and Barbuda.
Antigua and Barbuda is an independent Commonwealth country comprising its 2 namesake islands and several smaller ones. Positioned where the Atlantic and Caribbean meet, it's known for reef-lined beaches, rainforests and resorts.
Its English Harbour is a yachting hub and the site of historic Nelson's Dockyard. In the capital, St. John's, the national museum displays indigenous and colonial artefacts.
7. Devil's Bridge National Park – Historical landmark in Antigua and Barbuda
Devil's Bridge is a natural rock arch in eastern Antigua. It is located on the Atlantic coast at 17°6′1.7″N 61°40′42.2″W, near Indian Town Point to the east of Willikies. The area around the arch features several natural blowholes which shoot up water and spray powered by waves from the Atlantic Ocean.
Address: 482C+6J4, Willikies, Antigua & Barbuda
Along the rugged northeast coast, the dramatic scenery of Indian Town National Park features the natural limestone Devil's Bridge, sculpted over the centuries by the pounding surf. At high tide, waves force geysers of water through blowholes in the nearby rock.
6. St. John's, Capital of Antigua and Barbuda
St. John's is the capital and key port of the Caribbean island nation of Antigua and Barbuda. The city is home to the Museum of Antigua and Barbuda, with exhibits on indigenous tribes and plantation life. St. John's Cathedral, a 19th-century Anglican church, is on a hill near the 17th-century Government House. A monument to the nation's founder, V.C. Bird, is next to the Public Market, which sells crafts and produce.
Since the capital is a popular cruise ship stop, it's no surprise that shopping is one of the most popular things to do in St. John's, Antigua. Duty-free shops abound at Heritage Quay, souvenir stalls beckon from touristy Redcliffe Quay, and the lively harborside public markets are the place to be on Fridays and Saturdays.
5. Nelson's Dockyard National Park, Antigua
Nelson's Dockyard is a cultural heritage site and marina in English Harbour, located in Saint Paul Parish on the island of Antigua, in Antigua and Barbuda. It is part of Nelson's Dockyard National Park, which also contains Clarence House and Shirley Heights, and is a UNESCO World Heritage Site.
4. Dickenson Bay, Beach in Antigua and Barbuda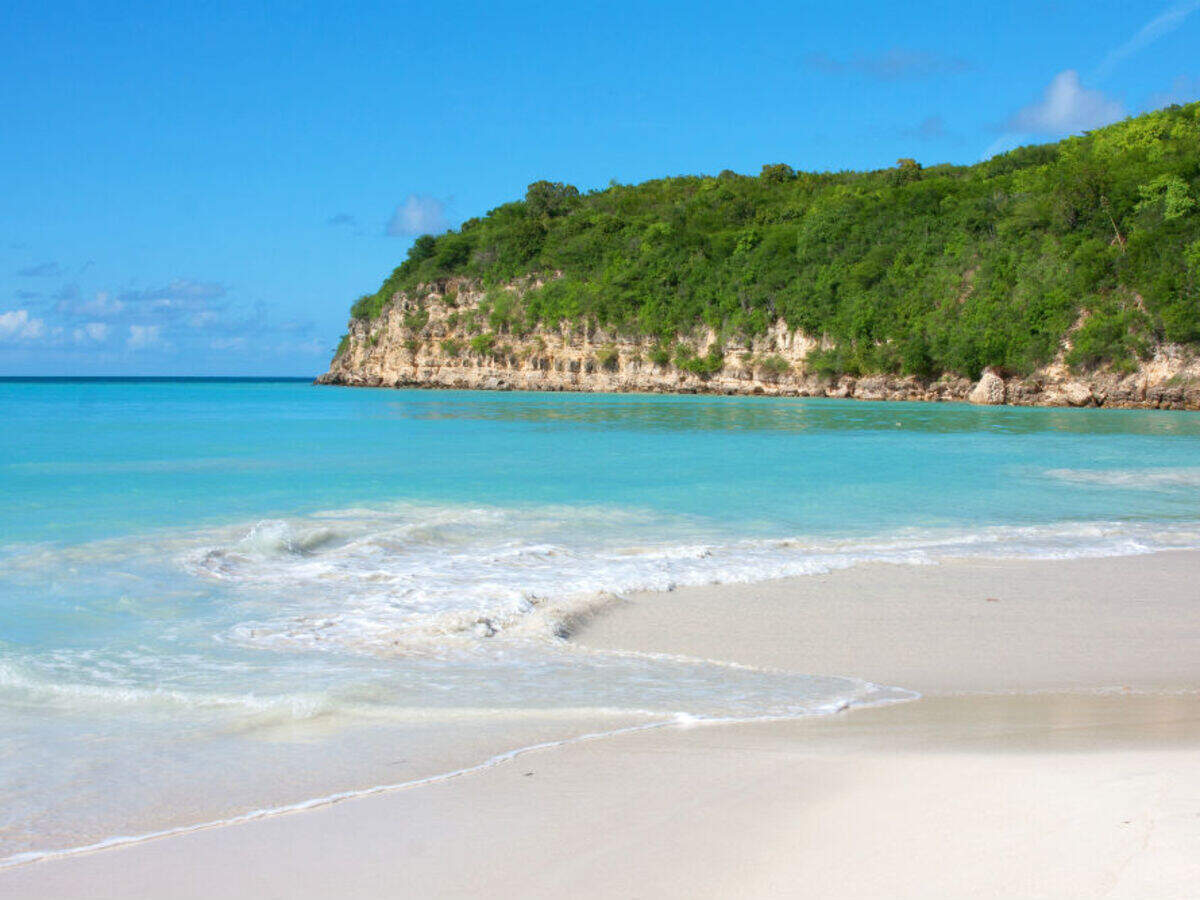 Dickenson Bay is located on the northwestern coast in Antigua, close to the Cedar Grove. A string of large resort hotels give Dickenson Bay one of the island's largest collections of rooms.
3. 17 Mile Beach, Barbuda – Top 7 Most Beautiful Places in Antigua and Barbuda
Those who lay eyes on Barbuda's 17 Mile Beach, will probably never see a more ravishing stretch of coast. Lapped by pale aqua seas, this stunning stretch of pink-tinged sand separates the Barbuda lagoon from the Caribbean Sea and impresses even the most jaded of beach connoisseurs.
Strolling along these sublime shores is one of the most popular things to do in Barbuda. Tours often include a delicious lunch on the beach.
2. Stingray City, Antigua
Nature guides providing aquatic encounters with southern stingrays, including snorkeling & feeding.
If you have a lifelong fear of stingrays, this fun face-to-face adventure should banish those fears forever. A five-minute speedboat ride off the island's east coast, Stingray City is a shallow pool with a sandy bottom amid a tropical reef, where hundreds of friendly southern stingrays glide through the crystal-clear waters waiting to be fed by visitors.
Depending on your comfort level, you can stand, swim, or snorkel with them, and after your encounter, you can explore the surrounding coral reefs. Feeling their smooth, satiny bodies brush against your skin is a highlight of this exhilarating adventure.
1. Half Moon Bay, Antigua – Top 7 Most Beautiful Places in Antigua and Barbuda
At the southeastern end of Antigua, Half Moon Bay is fringed by one of the Caribbean's best beaches. Protected by a reef, this idyllic crescent of fine white sand and azure sea, backed by natural foliage, offers excellent snorkeling on calm days.
A small restaurant serves snacks just off the beach, and you can rent chairs, and umbrellas here, too.
#Top7Portal #Top10 #Top20 #Top100 #ListofTop10About #ListofTop20About #WorldInformation #Knowledge #Todaynews #Question #Answer #Forbes #Top10Facts #Top10ofEverything #Top7ofEverything #Top20ofEverything #PresentBestTop10Lists #TopTen #TopTwenty #TopSeven #WorldWide
Conclusion of Top 7 Portal is Provide World Top Informative & Knowledgeable Information Website.
We'll be updating this page with more updated Top 7 Portal Latest News & Update.
Join Top 7 Portal by clicking on the link provided Facebook, Twitter, and Pinterest using the share buttons below.
You are reading this article via "Top 7 Portal", thank you very much for reading our article. Friends If you liked this article, please share it with your friends.