Most Iconic Couple of Hollywood Movies: The craze of Hollywood films is in the whole world, not from today but for many years Hollywood films are winning the hearts of the whole world due to their story and acting. Love story is presented very beautifully in Hollywood movies, you must have seen romantic scenes of couples in many films till date, today we will refresh the romantic moments of those couples.
Friends, today in this article I will tell you about the five most romantic couples of Hollywood films whose chemistry was different.
Edward and Bella
Rose and Jack
Ron and Hermione
Baby and Johnny, Dirty Dancing
Hulk and Natasha
Molly and Sam, Ghost
Wanda and Vision
1. Edward and Bella
Isabella Marie Swan-Cullen (née Swan) is a character and the protagonist of the Twilight novel series, written by Stephenie Meyer. Bella is married to Edward Cullen Jr., with whom she has a human-vampire hybrid daughter, Renesmee Cullen.
This pair of my favorite movie twilight is very beautiful. The love story of both is very cute in appearance. In the film, both of them have done a lot for their love. There were many difficulties between their love story but both of them faced troubles, especially Bella has proved herself many times for her love. How did you like this pair, do tell in the comment below.
2. Rose and Jack
You probably already knew that Jack and Rose, the main characters in the 1997 movie Titanic, weren't real. Like all films "based on a true story," the movie added its own fictional elements to historical events.
The film Titanic created history as soon as it was released, the story and every scene of this film won the hearts of the audience. This film has been completely successful in bringing the story of the sinking of the ship named Titanic to the audience. The love story of Jack and Rose has been presented very beautifully in the film. If you have seen this film in its entirety, then you must have liked Jack and Rose's love story.
3. Ron and Hermione
Of the two of them, it was Hermione who realized she liked Ron first as she dropped heavy hints in Harry Potter and the Goblet of Fire of her attraction. She fully realized she liked him by the time of the Yule Ball, but didn't do anything because of Ron's tactless behavior at the time.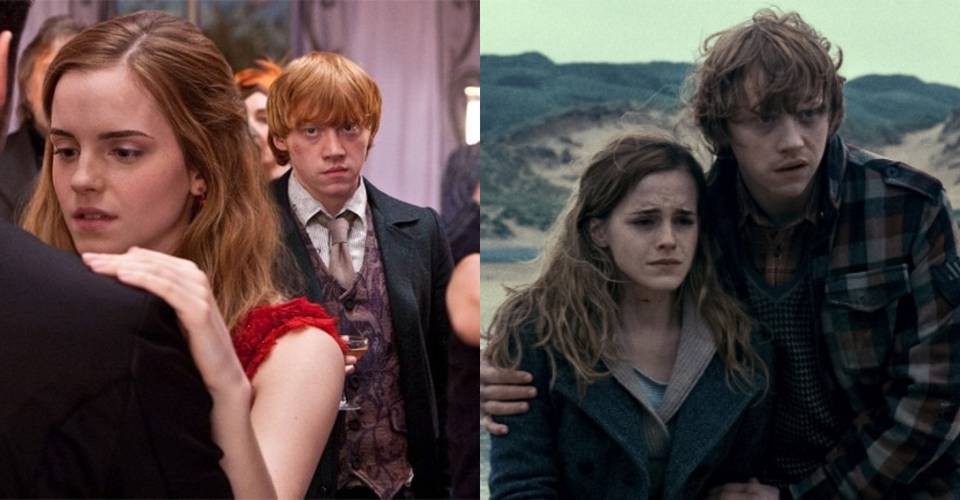 We all love the film Harry Potter, it is not a film but an emotion which is remembered even today. Ron and Hermione's love story in the film 'Harry Potter' was very unique. Where initially both used to fight like children, the audience did not understand when both became one. Well both look great together.
4. Baby and Johnny, Dirty Dancing
In the film, Johnny is 24, and Baby is 18. Jennifer Gray was 26 when she was cast as Baby, a character that was intended to be fresh out of high school. When Patrick Swayze was cast to play the role of Johnny in the film, he was 34 — a staggering ten years older than his character in the movie.
Johnny changed Baby's life by teaching her to dance, and he's able to show off that talent during the final number. But his speech isn't about himself. It's about how she changed him. Johnny may have taught Baby to dance, but Baby teaches Johnny to take risks and to live.
5. Hulk and Natasha
Hulk and Natasha had a very special relationship in the film Avenger, both of them never openly expressed their love but both loved each other very much. Natasha once expressed her love to Hulk i.e. Mark but Mark refused him because of his Hulk and anger. Whenever Hulk was angry, Natasha used to calm him down. If you have seen the entire series of Avengers, then you must have understood the chemistry of Hulk and Natasha.
The romance between Bruce and Natasha fizzled out after "Age of Ultron," mainly because Bruce/Hulk went flying into space and teamed up with Chris Hemsworth's Thor in 2017's "Thor: Ragnarok." MCU fans expected Bruce's return to earth in "Infinity War" and his reunion with Natasha to resurface the fan-favorite storyline, but that never happened because the jam-packed plot of the blockbuster left no room for the romance to get its proper due.
6. Molly and Sam, Ghost
Patrick Swayze's Sam Wheat, a ghost after his murder, professes eternal love and kisses his tearful lover Molly Jensen (Demi Moore) amid a symphonic swelling of their song "Unchained Melody." He says farewell to psychic Oda Mae Brown (Whoopi Goldberg) before uttering the immortal line, "The love inside, you take it with you" and walking into celestial lights.
This movie couple are not what they seem. Unlike any other love story, Molly Jensen (Demi Moore) is left widowed by her fiance Sam (Patrick Swayze – twice in one list, no less!) yet the romance plays on from beyond the grave as ghost Sam continues to intervene and protect his Molly from harm. An equally heartbreaking and heartwarming film, we had as much love for Whoppi Goldberg's Oda Mae Brown as we did for these two. This slice of movie perfection can also single-handedly claim to have rebranded pottery for the better.
7. Wanda and Vision
Despite all their ups and downs, the odd couple that is Scarlet Witch and Vision tried their best to make their unique lives work. And, while things didn't work out romantically in the end, the two have now found friendship.
The character of Wanda in the film Avenger was very special, in the last also Wanda did a great job and fought against thanos. In the last scene, Wanda was overshadowed by thanos. In this film, the pair of Wanda and Vision was seen, both of them stayed together for a long time and very beautiful chemistry was seen between the two.
Frequently Asked Question (FAQ)
Who is the most famous fictional couple?
Jay Gatsby and Daisy Buchanan
Eventually, Gatsby won Daisy's heart, and they made love before Gatsby left to fight in the war. Daisy promised to wait for Gatsby, but in 1919 she chose instead to marry Tom Buchanan, a young man from a solid, aristocratic family who could promise her a wealthy lifestyle and who had the support of her parents.
Who is the cutest movie couple?
Chuck Bass and Blair Waldorf
The relationship between Blair and Chuck, refers to the partnership and relationship between Blair Waldorf and Chuck Bass. Blair and Chuck grew up together on the Upper East Side, along with their respective best friends Serena Van Der Woodsen and Nate Archibald.
Who's the best TV couples?
Ross Geller and Rachel Green
Ross is friends with Rachel Green, whom he has had a crush on since high school. Rachel viewed Ross as 'Monica's geeky older brother' during high school. During the first episode of the series, when they meet after years apart, he rediscovers his feelings for her.
#Top7Portal #Top10 #Top20 #Top100 #ListofTop10About #ListofTop20About #WorldInformation #Knowledge #Todaynews #Question #Answer #Forbes #Top10Facts #Top10ofEverything #Top7ofEverything #Top20ofEverything #PresentBestTop10Lists #TopTen #TopTwenty #TopSeven #WorldWide
Conclusion of Top 7 Portal is Provide World Top Informative & Knowledgeable Information Website.
if you need anything else, or have inquiries, questions you would love us to answer, kindly use the comment box below to reach us. We'll be updating this page with more updated Top 7 Portal Latest News & Update.
Join Top 7 Portal by clicking on the link provided Facebook, Twitter, and Pinterest using the share buttons below.
You are reading this article via "Top 7 Portal", thank you very much for reading our article. Friends If you liked this article, please share it with your friends.