Most Visited Holiday Destinations of Bollywood Celebrities: Often Bollywood celebs like to go abroad to celebrate the holiday. Many celebrities like to go to a good place for their honeymoon too. You must have seen on Instagram that often Bollywood celebrities keep uploading their holiday and honeymoon pics.
Along with this, some also keep going abroad for the shooting of their films and TV serials. In today's article, we are going to tell about such a place. Which is very much liked by Bollywood celebrities.
Holiday destinations have become very common these days. Inspired by celebrity, the general public also likes to visit these places.
Top 10 Most Visited Holiday Destinations of Bollywood Celebrities Like as Actresses and Actor – World Tourism Portal
Where do our Bollywood celebrities go to unwind and holiday? Some are desi in their destination choices while some head abroad to de-stress. Thanks to paparazzi and social networking sites we know what are the celebrity destinations and where does Bollywood go for vacations.
Let's take a look at the most favorite list of Bollywood celebrities for holiday vacations.
1. Maldives, South Asia
Maldives is the best island of couples, where many people go to spend the weekend after their busy schedule week. Many celebrities like Mouni Roy, Varun Dhawan and Tiger Shroff went to Maldives before the lockdown to hangout. Holiday swimsuit pics of some actresses are very viral here.
The Maldives quickly reserved a spot as the most frequented destination during the pandemic for those looking to break out from the mundane and enjoy the sea freeze. The Bollywood celebs have been littering our social media feeds from their lush water villas in the Maldives.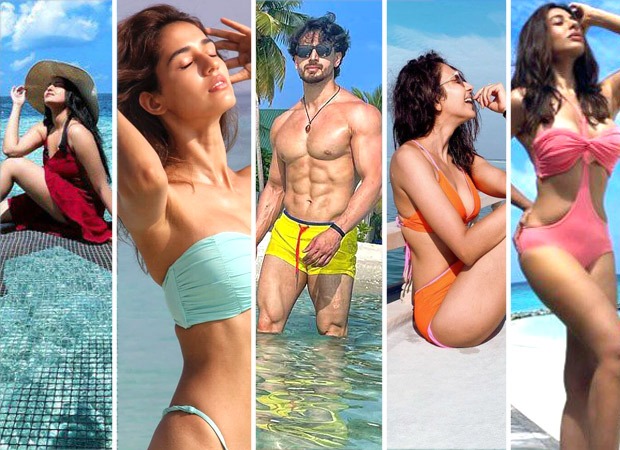 Often many models like to go to such a place for their photoshoots. Here you will get to see very nice places, as well as the beautiful shade of blue water with beautiful sea, swaying palm trees and gleaming white sand makes this place more attractive.
If truth be told, it doesn't take much for a celebrity to win all-expenses paid vacation to the Maldives. All he or she has to do in return is let the world know there is no better place to unwind. And in many ways, that is not a false endorsement. The Maldives is a stunningly scenic and serene place to vacation.
How long is enough in Maldives?: 4 to 5 days are usually enough to spend in the islands of Maldives. You can easily explore the major places in 5 days.
2. Dubai, UAE – Bollywood's Favorite Vacation Destination
Because the don financing some Bollywood production has its home base there (he fled India to pursue his shady business). Also this is a door to finance movies distribution in various ways. Actors and actresses will often work for important figures there, to attend special/promotional events and even ask for special "favors" (Dubai is a hot bed for celebrity escorts all year long). A bit like Goa in terms of "reputation"…
Dubai has always been the best destination for tourists from all over the world. There are many places to see here, which everyone wants to see. Many Bollywood celebrities like Salman Khan, Urvashi Rautela, Akshay Kumar and many more celebrities keep coming here. Dubai is the fascinating center of the world for its beauty, style. It is one of the best place to celebrate holidays and holidays.
Shah Rukh Khan The 'Badshah' of the Indian film industry who ruled Bollywood for over 30 years was the first Indian actor to get the UAE Golden visa.
3. Tuscany, Italy
Bollywood actresses and actors are most likely to choose Italy as their wedding venue.
Tuscany is one of the ethereal places, regarded as one of the most romantic destinations in the world, is famous as the greatest repository of art in the wood and its over-the-top countryside and rustic life.
Italy is counted among the most romantic destinations in the whole world, for your information, let us tell you that this place was chosen for Virushka's destination wedding. Along with this, Bollywood beauty queen Priyanka Chopra was also seen enjoying the holiday in Tuscany with her husband Nick Jonas.
Tuscany mesmerizes everyone with its beauty and cultural heritage. Every village here is very beautiful, where you would definitely like to spend your holiday. With this, it will be even more fun to celebrate honeymoon in hilly areas.
4. Bali, Indonesia
Bali is a province of Indonesia and the westernmost of the Lesser Sunda Islands. East of Java and west of Lombok, the province includes the island of Bali and a few smaller neighbouring islands, notably Nusa Penida, Nusa Lembongan, and Nusa Ceningan.
Of all the celebrities, Alia seems to be enjoying herself the most. The actor is in Bali with her several girlfriends, including best friend Akansha. She has posted pictures from her vacation from the beaches of the scenic city. Check them out:
Bali is one of the most favorite honeymoon and holiday destinations of Indian TV and Beetown celebs. Along with this, it is very famous for delicious food items, temples, festivals and beaches, especially newly married couples must visit here. Best place to spend colorful and love filled nights with your partner.
5. Bora Bora, French Polynesia
Bora Bora is a small South Pacific island northwest of Tahiti in French Polynesia. Surrounded by sand-fringed motus (islets) and a turquoise lagoon protected by a coral reef, it's known for its scuba diving. It's also a popular luxury resort destination where some guest bungalows are perched over the water on stilts. At the island's center rises Mt. Otemanu, a 727m dormant volcano.
Bora Bora is one of the best destinations for summer vacation. For your information, let us tell you that many Bollywood celebrities like Sonakshi Sinha, Hrithik Roshan come here to enjoy.
This place is a symbol of romance, due to which it is one of the popular places for honeymoon. Along with this, many blockbuster films were also shot here. The hotels of this place are known for their privacy, due to which celebrities and couples can come here and enjoy your pleasant life.
Are you a newly wed couple and bored in Indian hot weather or looking for a cool environment. Bora Bora island can be a perfect destination for your honeymoon trip, can its monsoon climate calm your mind and fill you with peace.
6. Miami, Florida, USA – Top 10 Most Visited Holiday Destinations of Bollywood Celebrities
Many famous Indian celebrities come here to enjoy their holidays. It is one of the most preferred holiday and honeymoon destination of Bollywood celebrities. Here many celebrities have enjoyed with your partner. Also it is very diverse in your culture which is why you should visit Miami once. There are many food items like sushi, jerk chicken, traditional Spanish tapas etc. Many actresses are seen here wearing swimsuits and taking sunlight.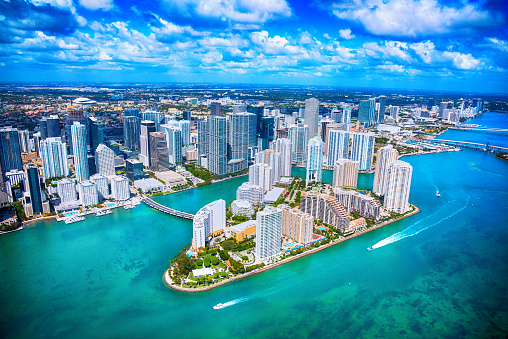 Florida is well known for its beaches & theme parks, but the lesser known fact is that it has something to offer for any kind of traveler.
Bollywood, has truly gone global, which means lots of travelling opportunities for our Bollywood stars. Although, its lot of work when they're shooting or performing overseas, our stars do manage to take some time out to explore the popular overseas attractions.
For tourists, Florida has always meant places like Orlando, Miami. Not many were actually aware of 'Tampa', until the IIFA happened. However, for the event, almost 30,000 tourists from all over the U.S., landed in this small sunshine city to see their favorite stars in action.
Though Florida may offer some of the most scenic places for film shooting, Bollywood filmmakers expressed their helplessness in shooting here. Reason being, the incentives offered by the local government here are not on par with that offered by other countries.
7. London, UK – Top 7 Most Visited Holiday Destinations of Bollywood Celebrities
London offers various styles of shopping. This is one of the main reasons why celebs visit there. Indian celebrities like Shah Rukh Khan, Kajol, Kareena Kapoor, Karisma Kapoor, Shilpa Shetty, and Akshay Kumar have spotted in London for holiday vacations. Additionally, there are a variety of live performances that often the Bollywood and Hollywood celebs perform here.
Today we told you about Holiday Destinations for honeymoon, all these places are very popular. Even the first choice of many bollywood celebrity. Along with this, superhit films and songs were shot at some places.
Ranveer Singh, who made his Bollywood debut with Band Baaja Baarat, went on to become the highest-paid Indian actor. He is also the recipient of several awards including the Filmfare Awards. Currently, the Bollywood actor is in London to watch Premier League Football. Pictures of him are going viral.
Frequently Asked Question (FAQ)
Where do Bollywood celebrities go for vacation?
Bollywood Celebs & the Holiday Spots that Own Their Hearts!
The Maldives
Dubai
Goa
Thailand
Israel
New Yor
Switzerland
Bollywood celebrities vacation
Shah Rukh Khan and Gauri Khan (Dubai)
Salman Khan (Panvel)
Virat Kohli and Anushka Sharma (Alibaug)
Rahul Khanna (Alibaug)
Kangana Ranaut (Manali)
Saif Ali Khan and Kareena Kapoor Khan (Gstaad)
Priyanka Chopra Jonas (Goa)
Ram Kapoor (Alibaug)
#Top7Portal #Top10 #Top20 #Top100 #ListofTop10About #ListofTop20About #WorldInformation #Knowledge #Todaynews #Question #Answer #Forbes #Top10Facts #Top10ofEverything #Top7ofEverything #Top20ofEverything #PresentBestTop10Lists #TopTen #TopTwenty #TopSeven #WorldWide
Conclusion of Top 7 Portal is Provide World Top Informative & Knowledgeable Information Website.
if you need anything else, or have inquiries, questions you would love us to answer, kindly use the comment box below to reach us. We'll be updating this page with more updated Top 7 Portal Latest News & Update.
Join Top 7 Portal by clicking on the link provided Facebook, Twitter, and Pinterest using the share buttons below.
You are reading this article via "Top 7 Portal", thank you very much for reading our article. Friends If you liked this article, please share it with your friends.