Prohibited Islands You Are Forbidden Islands From Not Allowed to Visiting: The allure of remote and forbidden lands has captivated human imagination for centuries. Within the hidden corners of our planet, there exist islands that remain off-limits to outsiders, protected for various reasons, ranging from environmental preservation to safeguarding indigenous cultures.
In this compilation, we embark on a journey to discover the top 10 prohibited islands across the globe, exploring the mysteries, histories, and regulations that shroud these enigmatic places.
These are destinations where adventure meets the boundaries of access, offering a glimpse into the untamed and the untouchable. Join us as we unveil the secrets of these forbidden isles and uncover the stories that make them off-limits to all but the most intrepid explorers.
1. Snake Island in Brazil
Snake Island, or Ilha da Queimada Grande, is a small but enigmatic island situated off the coast of Brazil in the Atlantic Ocean. Covering a mere 43 hectares, this island falls under the jurisdiction of the municipality of Itanhaém in the State of São Paulo.
Area: 43 ha
Max length: 1.5 km
Location: Atlantic Ocean
Population: 0
Highest elevation: 206 m (676 ft)
Administered by: Chico Mendes Institute for Biodiversity Conservation (ICMBio)
Municipality: Itanhaém
What sets Snake Island apart is its reputation as one of the most forbidden and perilous places on Earth, primarily due to its astonishingly high concentration of venomous snakes, particularly the critically endangered Golden Lancehead Viper.
With a temperate climate and a forbidding ecosystem, this island remains strictly off-limits to the general public, offering a fascinating and dangerous tale of isolation and biodiversity.
Also Read:- Top 7 Most Stunning Fountains in the World 10 Impressive UNBELIEVABLE Fountains
2. Surtsey Island in Iceland
Surtsey Island, situated within the Vestmannaeyjar archipelago off the southern coast of Iceland, marks the southernmost point of the Icelandic landmass, located at coordinates 63.303°N and 20.605°W.
Area: 140 ha
Location: Atlantic Ocean
Island group: Vestmannaeyjar
UNESCO World Heritage Site inscription: 2008
Highest elevation: 155 m (509 ft)
UNESCO Site Id: 1267
This extraordinary island was born from a volcanic eruption that commenced approximately 130 meters beneath the ocean's surface and dramatically breached it on November 14, 1963.
The emergence of Surtsey is a geological spectacle, offering valuable insights into the processes of island formation and ecosystem development.
Due to its fragile and evolving nature, Surtsey remains inaccessible to the public, preserved as a natural laboratory for scientific research and a testament to the Earth's geological dynamism.
You Can Know:- भारत के 10 सबसे स्वच्छ शहर 2023 – Top 7+ Cleanest city in INDIA (Complete List)
3. North Sentinel Island in India
North Sentinel Island, situated within the Andaman Islands, an Indian archipelago located in the Bay of Bengal, shares its vicinity with South Sentinel Island. This remote landmass is unique in that it serves as the homeland of the Sentinelese, an indigenous community that has intentionally chosen to maintain their isolation from the outside world.
Area: 59.67 km²
Max length: 7.8 km
Max width: 7 km
Highest elevation: 122 m (400 ft)
Postal code: 744202
Union territory: Andaman and Nicobar
Island groups: Andaman and Nicobar Islands, Andaman Islands
The Sentinelese people, known for their strong resistance to external contact, have consistently defended their protected way of life, often resorting to force to safeguard their isolation. As a result, North Sentinel Island is strictly off-limits to visitors, making it one of the most prohibited and inaccessible locations globally, both for the safety of outsiders and the preservation of the Sentinelese culture and heritage.
Visit This:- दुनिया की 10 सबसे ऊँची मूर्तियाँ in 2023 | 7 Tallest Statues in the World (See List in Hindi)
4. Niihau Island in Hawaii, US
Niʻihau, also known as Niihau, is a remarkable island situated in the Hawaiian archipelago. As the westernmost of the main islands, it holds the distinction of being the seventh largest inhabited island in the Hawaiian chain.
Area: 179.9 km²
Pop. density: 1.9/sq mi (0.73/km2)
Population: 130 (2009)
Location: North Pacific Ocean
Highest point: Mount Pānīʻau
Color: Keʻokeʻo (White)
Island group: Hawaiian Islands
Niʻihau is located approximately 17.5 miles to the southwest of Kauaʻi, separated by the Kaulakahi Channel. This island encompasses an area of 69.5 square miles, making it a relatively compact landmass within the Hawaiian group.
What truly sets Niʻihau apart is its restricted access, as it is commonly referred to as the "Forbidden Isle" due to stringent limitations on visitation. This exclusivity is primarily to protect the island's indigenous culture and natural environment.
You Can Know:- Top 10 Highest Population Islamic Countries – Name, Percentage in 2022
5. Heard Island and McDonald Islands
The Territory of Heard Island and McDonald Islands, situated in the vast expanse of the southern Indian Ocean, represents an Australian external territory that encompasses a unique volcanic archipelago.
Area: 368 km²
Elevation: 2,745 m
Population: Uninhabited (2011)
Location: Indian Ocean
UNESCO Site Id: 577
Major islands: 2
These remote islands are located approximately two-thirds of the way from Madagascar to Antarctica, marking them as one of the most isolated landmasses on the planet.
Despite their isolation, this territory covers a significant area, totaling 372 square kilometers, and boasts an extensive coastline that stretches for 101.9 kilometers.
While these islands may appear barren and desolate, they hold an important place in the realm of natural science and environmental preservation, which is why access to these territories is strictly regulated and limited.
Read More:- Top 7 Poorest Countries in the World 2023 by Current International Dollar
6. North Brother Island in New York City
North Brother Island, along with its counterpart South Brother Island, forms a duo of small landmasses nestled in the East River of New York City. These islands are strategically positioned between the mainland Bronx and Rikers Island, making them an intriguing part of the city's geography.
Location: East River, New York City
Total islands: 2
Borough: The Bronx
While they may seem like ordinary islands today, North Brother Island has a fascinating history. It was once home to the Riverside Hospital, a facility designated for isolating individuals afflicted with quarantinable diseases. However, in modern times, North Brother Island remains uninhabited, serving as a relic of the city's past and a place off-limits to the general public.
Visit Now:- Top 7 Most Beautiful Bolivian Women, Gorgeous & Hottest Girls in Bolivia – Top 7 Portal
7. Robins Island in New York State
Robins Island, a 435-acre landmass situated in the serene waters of Peconic Bay near the eastern tip of Long Island, is an intriguing location off the coast of New Suffolk, New York.
Area: 0.680 sq mi (1.76 km2)
Island group: Outer Lands
It holds the distinction of being privately owned, rendering it inaccessible to the general public. Under the jurisdiction of the Town of Southold in Suffolk County, New York, Robins Island remains a secluded and exclusive enclave, shrouded in mystery and off-limits to visitors.
Visit Now:- Top 7 Most Beautiful Canadian Women, Gorgeous & Hottest Girls in Canada, North America
8. Diego Garcia Island in the British Indian Ocean Territory
Diego Garcia, situated within the British Indian Ocean Territory, represents a unique and militarized atoll in the central Indian Ocean.
This island, the largest among the 60 small islands constituting the Chagos Archipelago, resides just to the south of the equator. Under the jurisdiction of the United Kingdom as an overseas territory, Diego Garcia remains restricted from general access due to its military significance.
Area: 30 km²
Max length: 24 km
Population: 4,239
Archipelago: Chagos Archipelago
Adjacent bodies of water: Indian Ocean
Reference no: 1077
Visit Now:- Top 7+ Most Hottest Colombian Girls, Actress, Model in Colombia, South America – Top7Portal
9. Poveglia Island, Italy
Poveglia, a small island nestled in the Venetian Lagoon between Venice and Lido in northern Italy, is divided into two distinct parts by a narrow canal.
While its historical records date back to 421, the island was once inhabited until the inhabitants were compelled to leave due to the ravages of warfare in 1379. Access to Poveglia is currently restricted, adding an air of mystery to its intriguing history.
Region: Veneto
Adjacent bodies of water: Venetian Lagoon
Read More:- Top 7 Italian Hottie on Instagram | List 10 Most Beautiful Italy Instagram Model to Follow
10. Garbage Island
The Great Pacific Garbage Patch, located in the North Pacific Ocean, is a distressing accumulation of marine debris. This debris primarily consists of litter and discarded materials that find their way into the ocean, seas, and other significant bodies of water.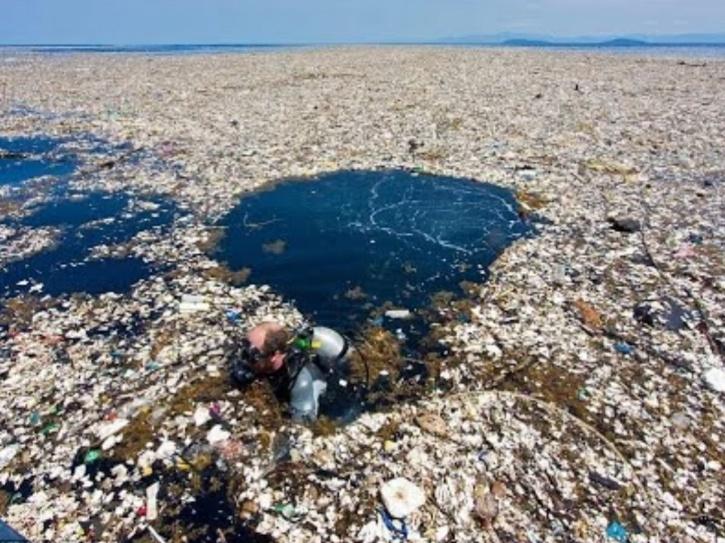 This ecological concern serves as a poignant reminder of the consequences of irresponsible waste disposal and its impact on our planet's delicate ecosystems. Access to this area is restricted due to environmental conservation efforts.
Also Read:- 7 Most Hottest Instagram Model from China 10 Hotties Chinese to follow on Social Media (See Pics)
Frequently Asked Question (FAQ) of Prohibited Islands You Are Forbidden Islands From Not Allowed to Visiting
What islands are people not allowed to go to?
Here's a list of the islands that you are not allowed to visit:
North Sentinel Island.
Poveglia Island.
Ilha da Queimada Grande, Brazil.
Surtsey Island,
Diego Garcia, British Indian Ocean Territory.
Albatross Island, Australia.
Morgan Island, USA.
Navassa Island, Caribbean.
island does not allow outsiders
The Sentinelese are an uncontacted tribe living on North Sentinal Island, one of the Andaman Islands in the Indian Ocean. They vigorously reject all contact with outsiders. Survival International lobbies, protests and uses public pressure to ensure their wish to remain uncontacted is respected.
What country is forbidden to visit?
Surtsey Island, Iceland
Surtsey is also known globally for being the newest island on the globe. Right now, it only allows a few scientists and geologists to enter its premises. This forbidden place in the world is totally banned to grant entry for tourists.
#Top7Portal #Top10 #Top20 #Top100 #ListofTop10About #ListofTop20About #WorldInformation #Knowledge #Todaynews #Question #Answer #Forbes #Top10Facts #Top10ofEverything #Top7ofEverything #Top20ofEverything #PresentBestTop10Lists #TopTen #TopTwenty #TopSeven #WorldWide
Conclusion of Top 7 Portal is Provide World Top Informative & Knowledgeable Information Website.
if you need anything else, or have inquiries, questions you would love us to answer, kindly use the comment box below to reach us. We'll be updating this page with more updated Top 7 Portal Latest News & Update.
Join Top 7 Portal by clicking on the link provided Facebook, Twitter, and Pinterest using the share buttons below.
You are reading this article via "Top 7 Portal", thank you very much for reading our article. Friends If you liked this article, please share it with your friends.